Developing a great playlist has been essential in my motivation to workout daily. I have, therefore, adopted the idea of being a self-proclaimed workout DJ that has the best hits of music to keep one energized. Whether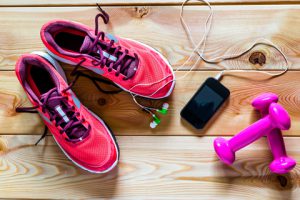 I'm specifically listening to music for its vocals, beats, and/or cords, the rhythm always seem to put me in good spirits which distracts me from focusing on the work and effort of doing my exercise for the day. Ultimately, I depend on music to pull me through those tough moments where normally I would be distracted by fatigue.
To begin, I joined a streaming music channel in which every song I could imagine could be accessed and played. I then began to program my playlist to coincide with my workout and work of breathing for the specific exercises for the day. During cardio exercises, I prefer fast paced pop and/or rock music while focusing on foot placement on the ground during the beat of the song. While weight training, I prefer R&B music focusing on the beat of music, range of motion, and breathing.
Every day I look forward to the fun of an awesome jam session. Whether I'm doing cardio or weight training, my mood stays positive and my energy level stays high. Focusing on staying on the beat while working out challenges me to have the ultimate workout performance. Although I can be seen mouthing the lyrics or snapping my fingers I am absolutely enjoying any activity. With great music while exercising, I never miss a beat.