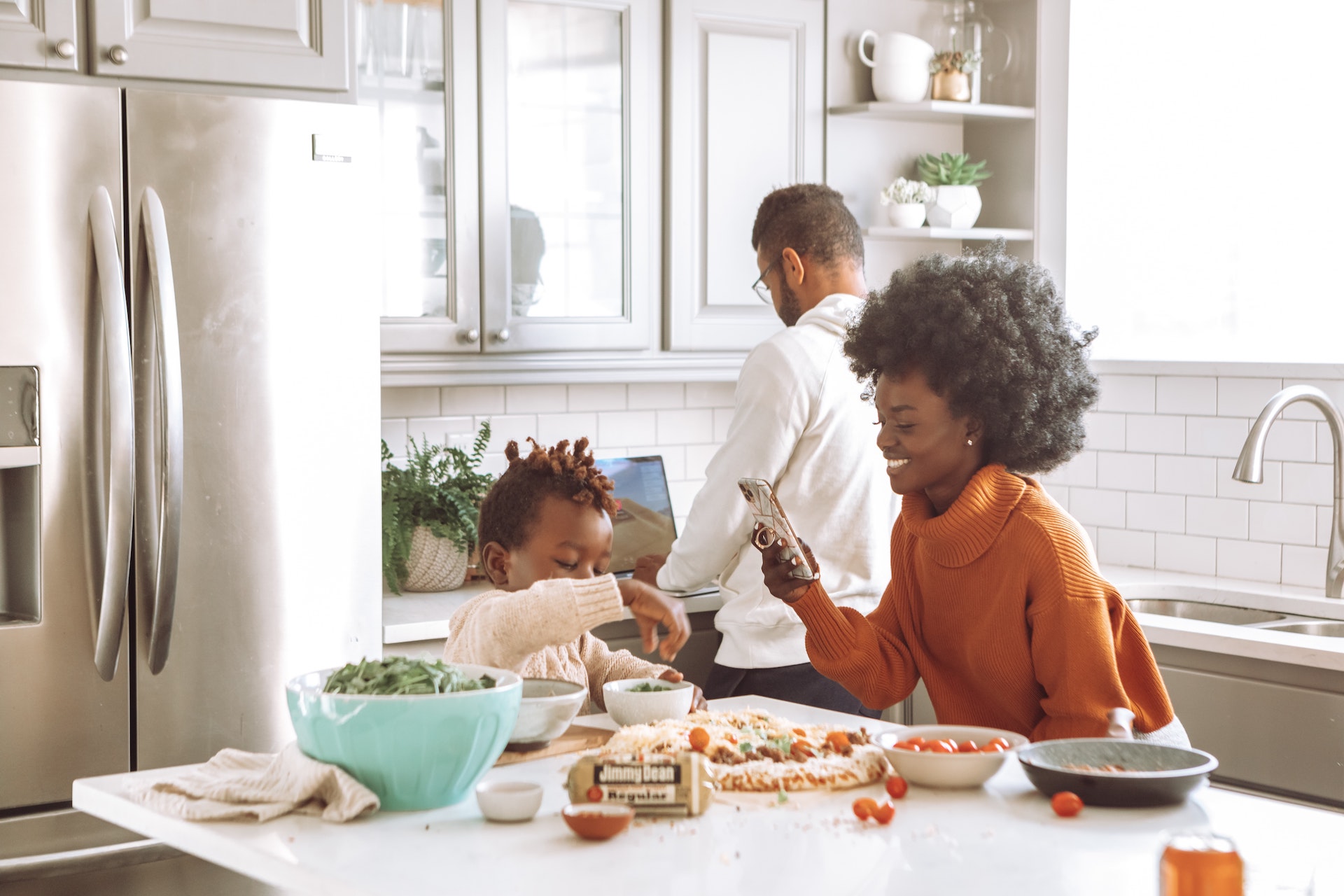 The holiday season looks a little bit different this year. Staying at home more means cooking more frequently, and that can be tiring. Meal fatigue, or cooking fatigue, is the idea that the act of cooking 3 meals a day, every day, can become draining and uninspiring, leading us to resort to quick and often unhealthy food choices.
If meal fatigue is happening to you, here are some suggestions for how to liven up mealtimes and make cooking, and eating, more exciting. Do not let the holiday season leave you stuck in a cooking rut. Try out one of these ideas next time dinner feels daunting.
Have a themed dinner – Pick a type of cuisine to theme your meal around. For example, try Mexican, Italian, or Asian. Check out the international aisle at the supermarket, or look for small local grocery stores that might specialize in various cultural food items. Research and talk about holiday food traditions from that culture to make it a learning experience for the whole family.
Host a virtual cooking party – Meet up with friends virtually to make your typical nightly dinner into an event. You can have one person "host" the dinner and assign everyone a recipe or dish, or you can simply have a "potluck" style evening where everyone cooks their own dishes. Share both the cooking and eating experiences to get the feel of a real dinner party.
Create an at-home cooking competition – Cooking for everyone in the household can be tiring. Try getting everyone involved by making an at-home cooking competition. Gather a collection of simple ingredients, and challenge everyone to come up with their own unique way to combine those ingredients into a meal. Have everyone vote on a winner, giving points for creativity and taste.
Have a build-your-own night – Take some of the burdens of dinner preparation out of your hands with a build-your-own night. This could take the form of tacos, pizza, salad, sandwiches, or even baked potatoes. Just put out the ingredients and everyone is set to build their own dinner.
Meal swap – Break the mold of breakfast, lunch, and dinner foods. Chicken and vegetable leftovers from dinner can be repurposed into a yummy omelet. Breakfast frittata can easily be eaten for dinner, and overnight oats or healthy muffins can act as dessert. Ignoring the "rules" and eating dishes in a different order can break up the boredom.
Be adventurous – Make something you're uncomfortable with. Even if it turns out to be a disaster, you will never know until you try! That fancy recipe you saw on Facebook might seem super daunting, but why not turn it into an adventure? The best-case scenario is that you now have an amazing new dish to eat and to share. However, do be prepared to make a mess and make mistakes. Give yourself time for a dinner plan B, just in case.
Support local restaurants – There is nothing wrong with turning to take out every once in a while, especially these days when restaurants are really struggling to stay afloat. If you're feeling too fatigued to cook at all, take the opportunity to support local businesses by getting takeout from an independently-owned restaurant rather than a chain.
Don't miss another great blog: Subscribe Now