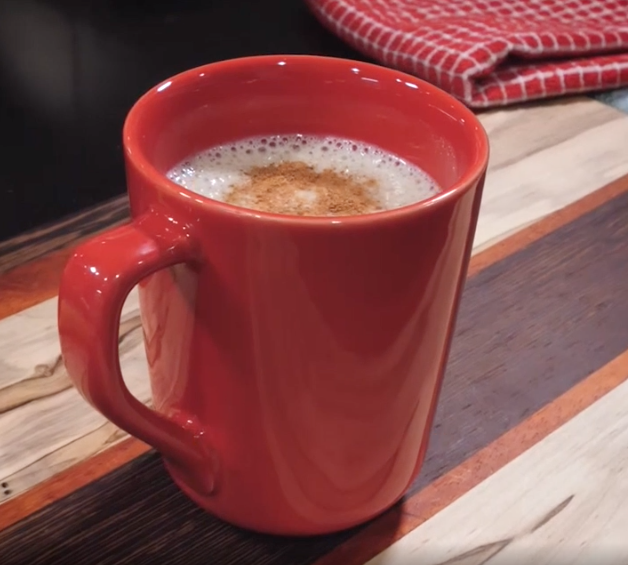 Christmas is this Friday! For many families, eggnog is a timeless tradition during the holidays but it comes with a hefty amount of calories (around 180 calories for 4 ounces). For those who crave the flavor on a regular basis try out this recipe for a healthy eggnog smoothie:
Ingredients
½ Cup Lowfat Vanilla Yogurt
½ Teaspoon Cinnamon
¼ Teaspoon Nutmeg
1 Banana (sliced and frozen)
½ Cup Milk, Skim or 1%
Directions
Combine all ingredients except the nutmeg
Blend until smooth
Serve in a glass and sprinkle with nutmeg
Nutrition Information per Serving
Serving Size: 12 ounces
Calories: 260 calories
Fat: 2 grams
Sodium: 140 mg
Carbohydrates: 52 grams
Fiber: 4 grams
Sugar: 37 grams (Includes 8g Added Sugars)
Protein: 11 grams
For those making traditional eggnog recipes or those who plan to indulge in the "real stuff,"make sure to keep these food safety tips in mind:
If using pasteurized eggs (labeled on carton), you can consume without heating, just chill the final mix and enjoy!
If using unpasteurized eggs, make sure to heat the mix to 160 degrees Fahrenheit while stirring, to kill harmful bacteria that may be present.
Note that adding alcohol will NOT kill bacteria in unpasteurized eggs; it must be heated to 160 degrees Fahrenheit (use a digital food thermometer for accuracy).
To get more information and watch an eggnog recipe demo from NC State Extension food safety specialist, Ben Chapman, click here.
Don't miss another great blog: Subscribe Now