A delicious and healthy alternative to fruit pies, these baked pears can be served as dessert, or even eaten with breakfast. This is a favorite of mine at holiday meals when you want something sweet after dinner because they fulfill the sweet tooth craving without being too sugary or too filling. These pears are delicious on their own, but for additional flavors, they can also be topped with a spoonful of low-sugar strawberry jam or a small scoop of vanilla frozen yogurt.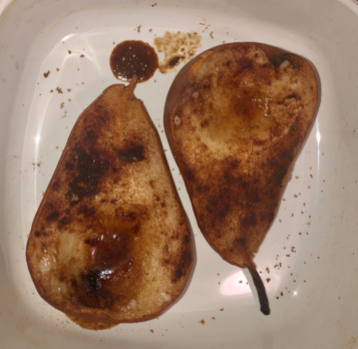 Ingredients
Servings: 2
1 Bosc Pear
1 tsp brown sugar
1 tsp cinnamon
Directions
Preheat the oven to 350F.
Slice the pear in half the long way, and core out the center using a large spoon or ice cream scoop.
Lay the pears in a glass baking dish, cut side facing up.
Mix together the brown sugar and cinnamon.
Sprinkle each pear with ½ of the cinnamon sugar mixture.
Bake for about 30 minutes, until sugar has caramelized on top and pears look juicy. Pears should be soft when poked with a fork if they are done.
Nutrition Information per Serving
63 kcal per pear
17g carbohydrates
3.5g dietary fiber
0g fat
0.5g protein
Don't miss another great blog: Subscribe Now