There are two food items that have been in heavy rotation in my kitchen: gremolata and soy chorizo. What I love about both of these items is that they are extremely tasty and relatively healthy. Double win!
Gremolata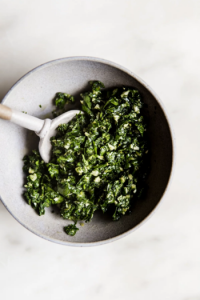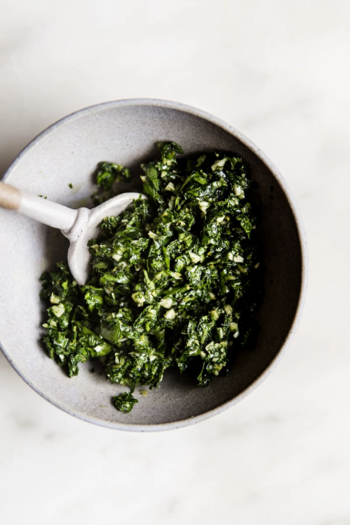 Several weeks ago, I saw this recipe, which introduced me to two things: 1) how to make the best crispy roasted potatoes and 2) gremolata. Gremolata is a bright and pungent chopped herb condiment classically made with parsley, garlic, and lemon zest. It's super easy to whip up if you have a few of the main ingredients on hand and it lends itself nicely to customization. Also, depending on the liquid content it can either serve as a garnish or a condiment. I prefer to make it with lemon juice and olive oil, which turns it into more of a sauce/condiment. The other really nice thing about this recipe is that it does not require fancy kitchen equipment because it can be made with a chef's knife (or a mortar and pestle). It makes a great addition to roasted veggies, red meat, poultry, fish, or even sprinkled over pureed soups. It is best the same day but can be kept overnight in the refrigerator.
NUTRITION FACTS: Serving size 1 tbsp | Amount per serving: Calories 27 – 32 (depends on ingredients)
Trader Joe's Soy Chorizo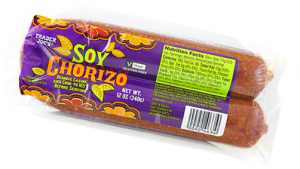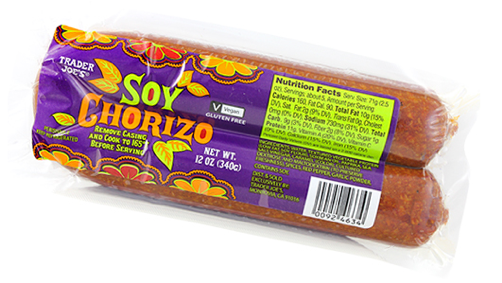 Let's just say, 10/10 would recommend. If you are a classic chorizo fan (or even if you aren't) I highly recommend checking out Trader Joe's meatless take on chorizo. As a carnivore, I find this meatless option an excellent substitute because it has all the flavor and a similar enough texture to meat-based chorizo. I have been adding soy chorizo to breakfast burritos, tacos, and potato hash. This soy protein-based chorizo has no cholesterol and 60% less fat compared to meat-based chorizo. The main nutritional downside is the sodium content, which has 31% of the daily max. So, I try to be mindful of the sodium in my other meals throughout the day.
COOKING DIRECTIONS: Remove soy chorizo from its plastic casing. In a large skillet over medium heat, add soy chorizo, breaking it up into pieces as it cooks, about 8-10 minutes. When soy chorizo reaches 165°F, remove from heat.
NUTRITION FACTS: Servings per container about 5 | Serving size 71g (2.5oz) | Amount per serving: Calories 160 Total Fat 10g (15% DV), Saturated Fat 2g (9% DV), Trans Fat 0g, Cholesterol 0mg (0% DV), Sodium 730mg (31% DV), Total Carbohydrate 9g (3% DV), Dietary Fiber 2g (8% DV), Total Sugars 1g, Protein 11g, Vitamin A (20% DV), Calcium (15% DV), Iron (15% DV), Vitamin C (0% DV).
*PRO TIP: Make crispy roasted potatoes and top with soy chorizo and a cilantro version of gremolata for a tasty breakfast potato hash!
Don't miss another great blog: Subscribe Now