The frozen meal review is back for round TWO! The Eat Smart Move More Weigh Less team is continuing the hunt for the most delicious frozen meal- and here are a few new ones we've tried!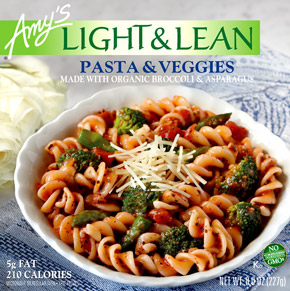 Amy's Light & Lean Pasta and Veggies- Pasta and Veggies made with organic broccoli and asparagus.
Calories: 210

Price: $3.97 (on sale)
Weight: 8 oz.
Upside: SO GOOD! And very low in calories! All organic and made with whole grain  noodles. Lots of veggies, great taste, and pasta has normal texture (not soggy like some frozen meals).
Downside: A little expensive. Some might think it's too small of a portion but I thought it was just right!
Rating: 
Healthy Choice Top Chef Chicken Linguine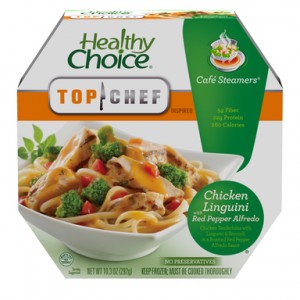 with Red Pepper Alfredo- Chicken tenderloins with linguine and broccoli in a roasted red pepper alfredo sauce.
Calories: 280
Price: $2.97
Weight: 10.3 oz.
Upside: Pasta has decent texture.
Downside: Red pepper sauce doesn't taste like anything.Chicken is grainy. Broccoli is too soft.
Rating:
Kashi Steam Meal – Roasted Garlic Chicken Farfalle- Natural white chicken,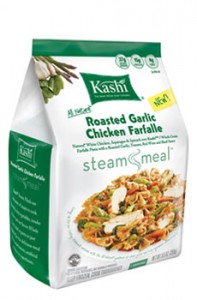 asparagus & spinach over Kashi™ 7 whole grain farfalle pasta with a roasted garlic, tomato, red wine and basil sauce.
Calories: 280
Price: $2.42
Weight: 9.5
Upside: Pasta has good texture and there are lots of veggies, plus the asparagus is very flavorful. Great deal – I bought a four pack for $9.69 at Costco. Sauce is an earthy mix of garlic and tomato, and the calorie amount is on target.
Downside: Chicken is okay, but there is not much of it and it could use some more spinach.
Rating:
Stouffer's Simple Dishes – Cheddar Potato Bake- A side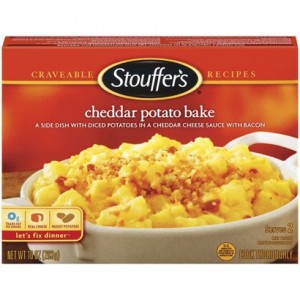 dish with diced potatoes in a cheddar cheese sauce with bacon.
Calories: 240 per serving (480 per box!)

Price: $2.59
Weight: 5 oz. (10 per box)
Upside: Quite cheesy and a little smoky from the bacon. It's also inexpensive.
Downside: Not too flavorful (added some Tapatio). High calorie with tricky labeling in that there are two (small) servings per container.
Rating: 
Amy's Indian Mattar Paneer- Curried peas and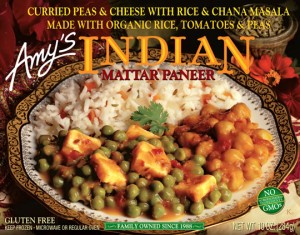 cheese with rice and chana masala.  Made with organic rice, tomatoes and peas.
Calories: 370

Price: $4.99
Weight: 10 oz.
Upside: Yummy spices and great flavor! Very satisfying with 13 grams protein and 6 grams of fiber!!  Woohoo!!  Not left feeling hungry after you eat this.  Gluten-free too!
Downside: A little high in fat at 11 grams; however, most is healthy fat.  Also, high in sodium at 780 mg.  A little expensive if you buy at Harris Teeter (less expensive at Super Target < $4).
Rating: