Below is a testimonial from a recent Eat Smart, Move More, Weigh Less participant, Ann. Way to GO, Ann!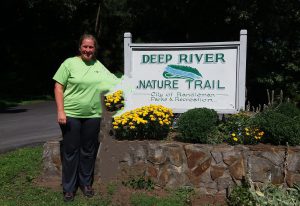 "For the past 10+ years I have been struggling with my weight and other health problems including chronic fatigue, dysautonomia, allergies, and anxiety. I have tried multiple times to get in shape or lose weight only to fluctuate up and down the same 10-15 pounds and could never get past that or have the energy to do very much exercise. There was not a lot of motivation to cook and I resorted to a lot of the same old recipes that I was used to making of which pizza, tacos and spaghetti with garlic bread were high on the list of favorites.
Three years ago, my body had an unexpected bad reaction to an iron infusion that almost killed me and weakened me to the point of really having to be bed-ridden much of the time for the next year and a half. Within a few months it became obvious for unknown reasons that I was reacting very badly to air fresheners, essential oils, and other fragranced products. After removing all such chemical and fragranced products from my home, I noticed a much more drastic improvement in my health. I slowly and steadily improved in energy and stamina.
By the summer of 2017, my family hosted a foreign exchange student from France. He was a delightful 16 year old young man who loved sports and was very healthy. It was my job to teach him English. What I didn't realize is how much influence he would have on me. He ate so well that I was embarrassed to eat my normal typical foods and in the amount I was consuming! This was my first real wake-up call to needing a change. I did my best to eat a lot better while he was here. I lost 13 pounds running around playing every sport under the sun trying to keep up with him! I realized that my health was really improving being able to exercise that much in a short period of time.
After he went home, I tried on my own again for several months to gain better health and lose weight… I lost a few more pounds before gaining 12 pounds back again! I was so discouraged and thought I just couldn't do it and I would be overweight forever!
That is when I saw an email offer from my husband's employer to join the Eat Smart, Move More, Weigh Less. It was perfect timing and I really needed help!
I learned so much from the material presented and the encouragement and accountability I received from my instructor! Here are some of the most important ways that this class helped me make permanent and lasting changes in many areas of my life along with some big changes that I experienced.
First, making a SMART goal was absolutely pivotal! I was encouraged to use language such as, "I WILL (ie. lose ___ pounds by ___") as opposed to "I will TRY to…" This made a huge difference in my mindset as I realized I had always given myself an "out" in the past by not really committing to my goals. A visual line graph in My Dashboard helped me keep this commitment as I never wanted to see the line go up again like it did after the first week. I became determined to always see that line graph go down each week!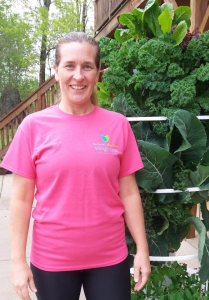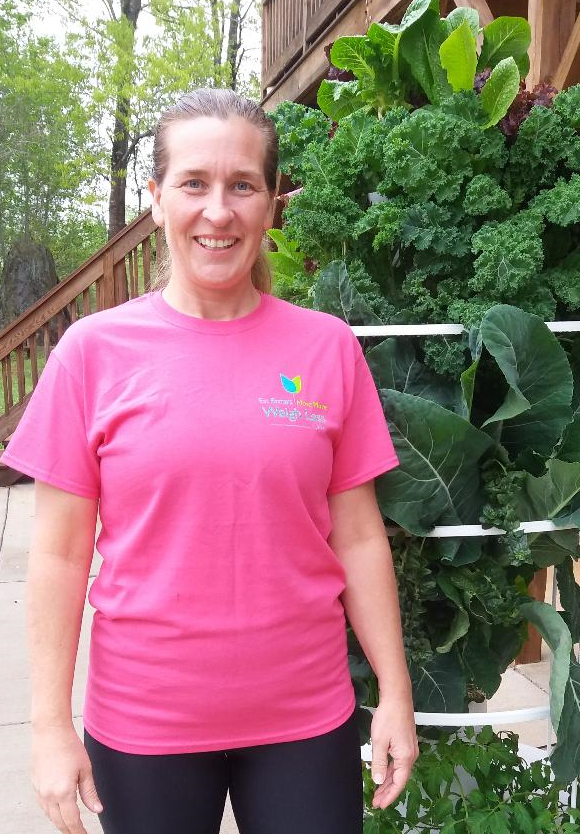 Second, at the beginning of the program, I have to admit, I was completely uninterested in tracking my steps. I didn't want to carry anything around with me and I thought I was getting plenty of steps in per day anyway. After several weeks of encouragement in the class about the benefits of using some type of tracker, I bought a pedometer. After wearing it for a few days, I could not believe that I was only getting around 3000 steps per day! This was shocking to me and made me realize I wanted to do more! I started using the dust-collecting elliptical machine in the basement for 30 minutes several times per week. I worked my way up to 60 minutes per work out and tried to create a nice, inviting atmosphere to encourage myself to keep choosing to exercise. Based upon recommendations in the class, I also came up with a strength training workout for the first time. I didn't know that I could actually like working out! (Jamm'n to the 80's helps a lot, too!) I was introduced to all kinds of other ideas on how to get more exercise into my day. Now, instead of sitting there like a bump on a log, I walk around my open living room/kitchen/dining area for an hour or two when the TV is on or if I am listening to something…tracking my steps of course, and now there is hardly a day that I don't walk at least the minimum recommended 10,000 steps!
Third, my delusions about what a cup of food looked like in my mind as opposed to reality were shattered when I started actually measuring! Portion sizing became a huge deal for me to start paying attention to if I plan on reaching my goals. I received education on how many calories I should be eating along with reading and interpreting labels. Four pieces of pizza and breadsticks used to be normal for me to eat on pizza night! One strategy I learned was to use a salad plate for meals instead of using the bigger dinner plate. I started measuring my portions and getting the calorie count into a more realistic range. I realized that I can live just fine and even better on much less food intake, not to mention the money I will save at the grocery store!
Finally, I learned so many new skills and ideas in this class and found motivation to try several new things throughout the duration of the class.
I replaced white bread for whole grain bread and even baked my first loaf of whole grain bread from wheat berries that I ground myself.
I made homemade yogurt for the first time so I can control the amount of sugar and it turned out great using only honey.
I planted a Tower Garden for the first time and I am eating organic lettuce, kale, spinach, and other veggies from my own patio! (They taste way better than store bought in my opinion!)
Started baking Kale chips in the oven and LOVED them! (I used to eat potato chips a lot! No more!)
I bought a wok to encourage some variety in my meal planning and have new opportunities to make Chinese foods or other things in that new fun cooking tool! I was desperate to expand my horizons.
I started looking up new, healthier recipes and look for certain alternate ingredients to reduce fat and calories as suggested in the class.
I am planning much more balanced meals for my whole family to eat better!
I rarely eat out, but when I do, I feel able to make better choices and even check the nutritional value ahead of time when planning what to order, which I have never done before.
I reduced the amount of fruit juice I was intaking drastically and drink more water now.
Tracking my food intake was a valuable tool to help me be mindful of what I was putting in my mouth.
Shhhh…Don't tell anyone, but I bought a bikini for the first time in 17 years and actually wore it in public on a recent trip to Florida! (I still have a way to go to look even better in it, but I am on my way and I am no longer wearing granny-suits! LOL)
Ordered a MEDIUM size t-shirt that I earned for perfect attendance in the class and I will wear it proudly as a reminder that I AM ABLE to reach my goals!
In implementing these ideas and strategies, I saw wonderful results as I met and exceeded my goals for this class! My original SMART goal was to lose 15 pounds, track food and water intake, use the smaller plate, get at least 8000 steps per day, and reduce sugar drinks, etc. I was given the tools and ideas to help me achieved them all!!! I lost 24 pounds, 10 inches around the waistline, dropped 2 clothing sizes, and dropped my BMI from 30.54 to 27.08! I also noticed that I am no longer craving sugar much at all anymore, I stopped eating snacks before bed, and pizza night always includes a salad now. AND… I no longer dread getting my picture taken!
For the first time, I feel that I have the skills and motivation to keep making new goals and meeting them in the future! Thank you to my wonderful and encouraging instructor and all who have created and implemented this program! I am a new woman!"
-Ann, Recent Eat Smart, Move More, Weigh Less Participant
Don't miss another great blog: Subscribe Now