Fall is in the air, kids are back in school and fall sports are in full swing.  Kids are catching pop flies on the baseball field, dribbling down the soccer field to score the winning goal, and running out to catch the perfect pass from the quarter back.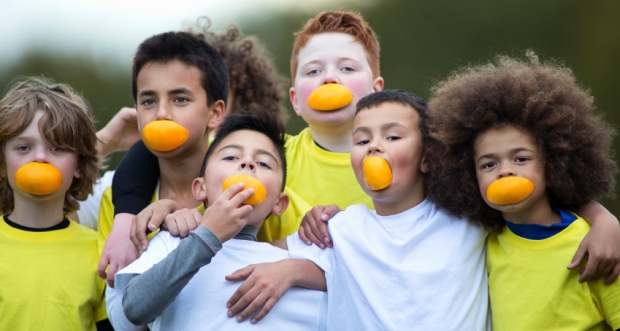 I love this time of year!  My kids are always so excited for their favorite sports to be under way. It's great to see so many familiar faces and involved families.  Parents are out there enjoying watching their kids being active and having fun.  Kids are grinning ear to ear and working up a sweat!  But then, there is always the mention of the SNACK!!
For some reason kids sports just aren't complete without a snack anymore.  How did this come about??  I know when my kids were really young they didn't care if they won or lost, they had no idea what the score of the game was, they just wanted to know what the snack was going to be!  That was the highlight – yikes!
I remember when I was growing up and playing soccer, we didn't have a snack every time our cleats touched the field.  We didn't have snack parent for every practice.  We had orange slices for the games, and to us they were the best thing ever.  We would dive into the bag of fresh fruit to keep us hydrated and to give us a little boost.  So where have all of those orange slices gone?
My kids have been active in sports for years now and I have never (ok, maybe once) seen a parent bring fruit for an after game or after practice snack.  Instead we are offering kids chips, candy, rice krispy treats, and fruit punch as soon as they step off the field.  Why is it that we are encouraging our kids to be active and healthy and then rewarding that behavior with junk food instead of a nutritious snack?? And, if your schedule is anything like ours, the snack usually comes right before we are about to go home and eat dinner.
Next time you are asked to be the snack parent for a sporting event why not bring something healthy?  Let's set a new trend.  Don't be afraid to bring along bananas, grapes and orange slices.  Maybe even suggest it to the coach at the beginning of the season.  Let's keep our kids healthy!