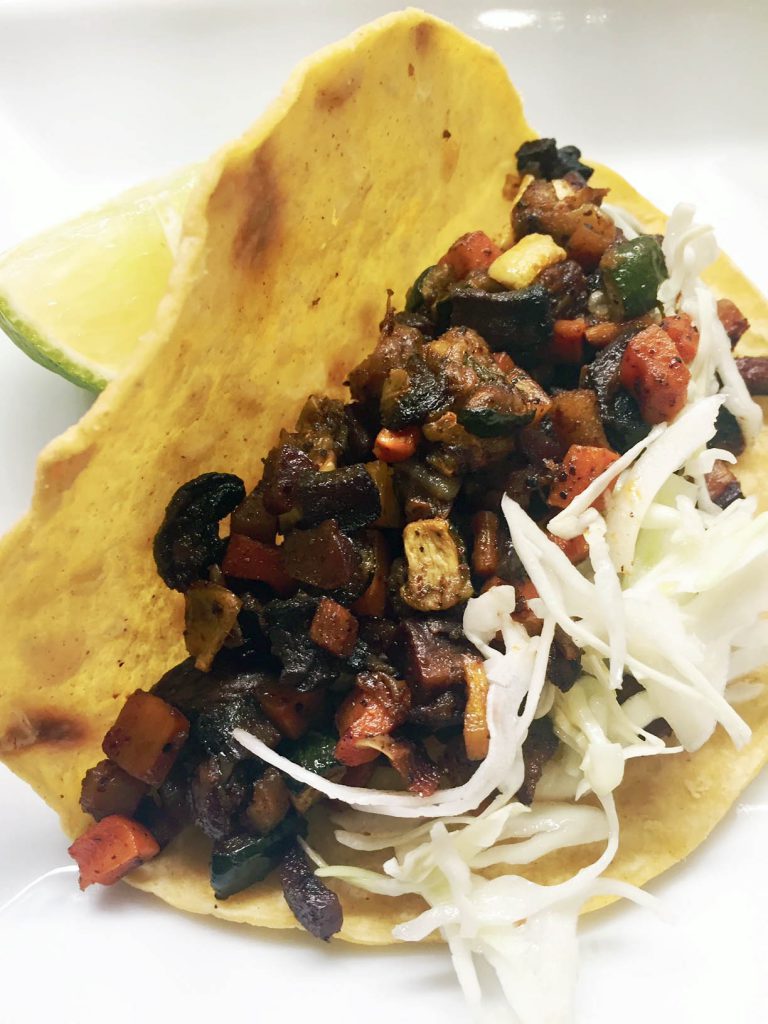 I am always looking for interesting taco fillings. I experimented recently with roasted vegetables. The key is to cut the vegetables small (1/4-inch cubes) and roast them well with taco seasoning. I don't like to use premade taco seasoning because of the high salt. It is super easy to make your own using this recipe. I use corn tortillas and a topping of just shredded cabbage mixed with lime.
Roasted Vegetable Tacos
1 medium onion
1 zucchini
1 yellow squash
3 large carrots
8 ounce container of white mushrooms or baby bellas
3 Tablespoons olive oil
2 Tablespoons taco seasoning
½ teaspoon salt
Preheat the oven to 375 degrees F.
Cut the vegetables into a ¼ inch dice. This takes a few minutes but your work will be well worth it in the end. It is a good time to practice your knife skills!
Toss the cut vegetables with the olive oil, taco seasoning, and salt. You can do this in a large bowl or plastic bag.
Place the vegetable mixture on a sheet pan lined with foil. This makes clean up easy.
Cook the vegetable mixture 45 min to 1 hour stirring half the way through.
Assemble the tacos on warmed tortillas.
Makes 6 Tacos
Serving Size: 1/6th of recipe
Prep Time: 30 minutes
Cook Time: 1 hour
Total Time: 1 hour 30 minutes
Nutrition Information per Serving (for taco filling only – add about 50 calories if using a corn tortilla):
Serving Size: 1 taco
Vegetables: 1/3 cup
Fruits: 0 cups
Calories: 92 calories
Carbohydrates: 7 grams
Fiber: 2 grams
Protein: 2 grams
Fat: 7 grams
Sodium: 219 mg
Don't miss another great blog: Subscribe Now