If you happen to know me personally, you would know that I detest eating out! It's partly because of the fact that food eaten outside the home is not nearly as healthy as something that's cooked at home and partly due to the fact that I am a vegetarian and always suspicious of potential cross contamination with meat products.
With that disclaimer, I will say that there are a few places I will go to when I have to go out to eat. I am very happy to share that b.good was recently added to my "I can eat there" list! Their kale and grain (or substitute with quinoa) bowls are satisfying, delicious and packed with healthy vegetables and whole grains. My favorite bowl is the Spicy Avocado and Lime; it's 525 calories but it's almost impossible for one person to eat the whole thing so I either share with a family member or take half back home for another meal.
While I like going to b.good, eating at home is always the first choice. After my recent visit to b.good, I decided to make my own bowl at home and it turned out to be pretty good. This doesn't mean that I won't visit b.good again but at least I can eat a version of their bowl when I want to in the comfort of my home. Here's how I made my Kale and Quinoa Bowl, inspired by b.good:
Ingredients: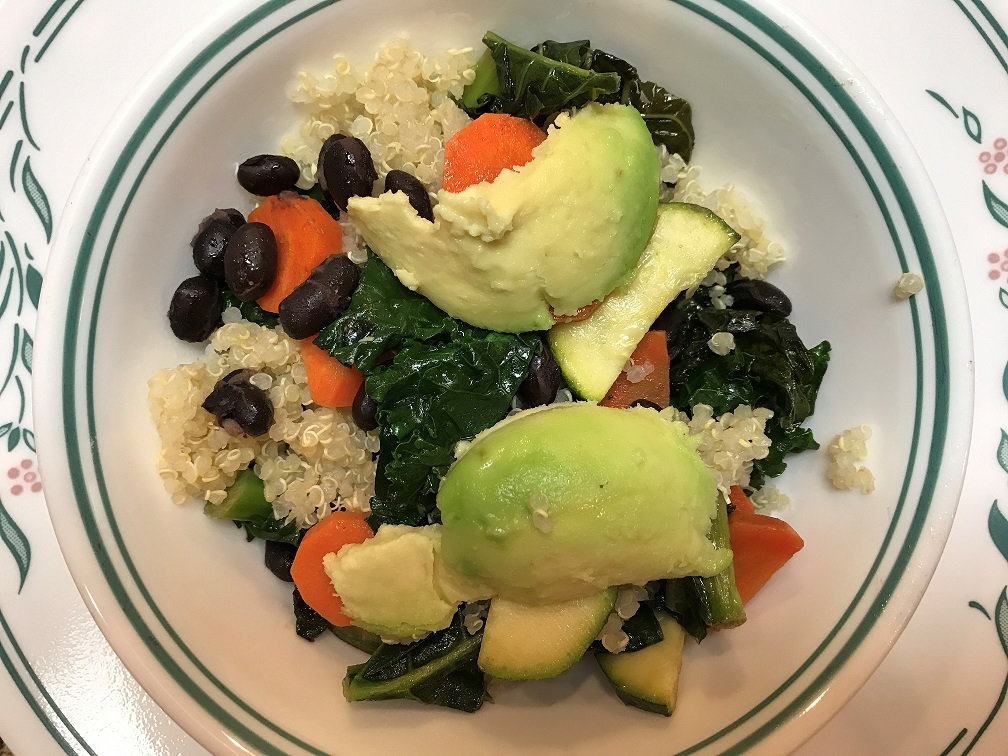 ¾ cup dry quinoa
3 teaspoons olive oil
8 ounce ( ½ bag) kale leaves, washed
1 cup cooked black beans, drained and rinsed
3 carrots, peeled and diced
2 zucchini squash, diced
1 avocado, sliced
1 lemon and seasonings to taste
Directions:
Follow directions on quinoa package to cook and set aside.
Heat olive oil in a large skillet.
Add kale, carrots, zucchini and black beans.
Cook until kale and carrots are soft and season with salt, pepper.
Mix in the cooked quinoa.
Serve with sliced avocado and a squeeze of lemon juice on top.
Serves 4.
Don't miss another great blog: Subscribe Now