One of the TV shows that my family all enjoys watching together is a show called Chopped on the Food Network.  If you have never seen it before, they start out with 4 chefs and each chef gets a basket full of mystery ingredients.  There is an appetizer, entrée and dessert round and one chef gets "chopped" each round by a panel of judges.
Last night we had the great idea to play this at home.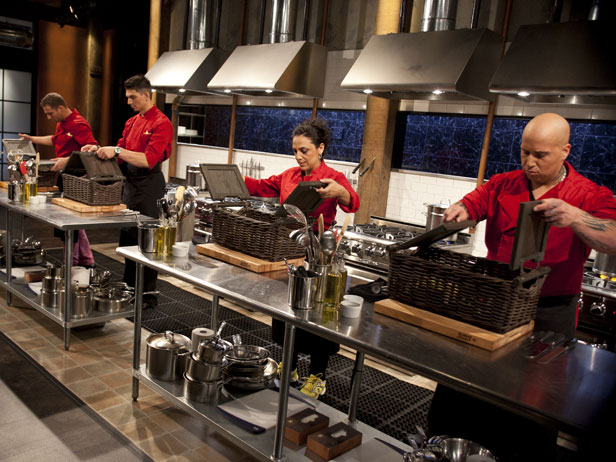 My kids are 5, 7 and 9 so they are far from being proficient and independent in the kitchen, but that didn't stop us.  My kids started off with the appetizer round.  They stuck to using the toaster and the microwave for safety, and of course if they did any cutting we helped. It was so fun to see the wheels turning in their heads . . . which ingredients should I use, how can I make mine unique, how can I make it look pretty on my plate?? They presented their dishes along with an imaginative back story for where they worked, what brought them to the show, why they wanted to win, etc.  The hardest job fell on my husband and I as the judges – who should we chop?
Next it was their turn to be the judges while my husband and I were the chefs for the entrée round.  They got to pick out our basket of mystery ingredients and taunted us along the way about how many minutes we had left to finish our dish.  As they tasted the food they tried to be so sophisticated and detailed about what they liked and disliked about the flavor, texture, appearance, etc.  The end of this round finally led us to the dessert round and the family Chopped champion – it wasn't me :-).
This was such a hit with our family!  So much laughter and giggles! The kids were not only excited to be in the kitchen, they became more aware and comfortable with cooking.  They had to be creative about meal preparation, they had to be adventurous tasters as judges and they were mindful about eating, really paying attention to how the food was presented and how it tasted.  They were having a blast and had no idea that they were learning so much in the process.  Definitely a night to remember.
You might also like:
Mom, How Do You Spell Zucchini
An Experiment: Fruit and Center
Look Out American Ninja Warriors! PLAY to get 10,000 Steps Per Day
Don't miss another great blog: Subscribe Now