I recently heard a story on NPR about the rise of the groceraunt, defined as a blend between a grocery store and a restaurant, that has become quite trendy especially among millennials.  Contrary to what we teach in Eat Smart, Move More, Weigh Less and Eat Smart, Move More, Prevent Diabetes when we discuss the importance of meal planning, most of us don't know what we are having for dinner by 4pm.  This lack of planning leaves us with no choice but to pick up an already prepared meal on the way home from work.  Grocery stores are meeting this demand by serving high-quality, already prepared 'heat-and-eat' or just 'eat' meals as a less pricey option than a restaurant.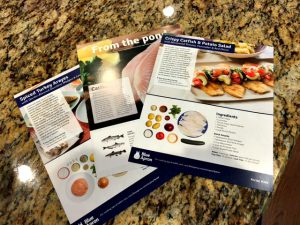 Since I am not a millennial, what appealed to me most during this story was brief mention of meal home delivery services that plan the meals for you and the ingredients and recipes are delivered right to your door.  I like to cook, but find it challenging to find the time to creatively plan new meals.  A recent internet search revealed that this meal home delivery concept is growing by leaps and bounds, as there are dozens of companies from which to choose.  Since I had received several coupons in the mail for Blue Apron, I thought that I would give it a try.  I was hesitant because it seemed kind of expensive to simply save me a trip to the grocery store.  My thinking was that if I still have to do the cooking, how will this actually save me time?
After using the service for about 4 months, here is my list of pros and cons:
Pros
Convenient

Meals arrive at your door on your selected day each week.
Service can be canceled at any time with a two-week notice.
Service can be paused at any time.

Saves time

Shipped ingredients reduces grocery shopping time.
Included recipes reduces meal planning time.

Saves money

They send you what you need to prepare each recipe, so you don't have to buy an entire jar of a particular spice for just one recipe.
I spend less money at the grocery store because I know that at least two nights' dinners are already planned.
Meals are reasonably priced (<$10/person/meal for a family of 4).

Customizable

Program allows you to individualize your preferences mostly, e.g., vegetarian, no beef, no shellfish, etc. (see my 'Cons' list for exception).
Seasoning packages are on the side, so you can season foods to your liking.

Gets me out of my box

Meals allow us to try new things – new spices, cooking techniques, new vegetables like purple fingerling potatoes, variety of squashes, and pink lemon.

Can make recipes again

Recipe cards can be easily stored to make the recipes again.

High quality ingredients

Fresh, highly quality meat, fish, and produce are included.

Unique

Each meal is unique (no repeats so far).
Cons
Refined grains

Recipes contain too many refined grains – white rice, white flour, white bread.  I wish that I could substitute with more whole grains.

Need gluten-free

There is not an option to select a gluten-free meal plan. Since my daughter has celiac disease, I make a lot of substitutions.

Need more vegetables

Vegetable portions are small and I often need to supplement.
So where do I stand now?  I continue to receive my Blue Apron meals each week.  With the competitor list growing, I am hoping that Blue Apron will tend to my list of 'Cons', which I would imagine are not unique to me.  If not, I will just have to use one of the many coupons in the mail to try another meal home delivery service.