Eat Smart, Move More, Weigh Less participant, Katrina, shares her incredible weight loss journey. We are so proud of you, Katrina!

Class began January 11, 2016, but my current journey began the last couple weeks of November.  I had been receiving email notices about signing up for the classes for several years now, I even thought about doing it a few times but never made the commitment.  However, when the last email came, it was just perfect timing.  A friend and I had been saying we didn't want to wait until the new year to start again on a weight loss journey.  Seems like for the last 3 or 4 years that had been the trend, so I decided to do something different this time.  I was at my highest weight ever; 241 lbs.  I started to put my Fitbit to work and increase my steps and moderately exercise.  I also started back tracking my calories with MyFitnessPal.  My friends stopped almost before they got started, but unlike before, I didn't stop when they did.
I asked myself how could I find my own motivation and support and not let their lack of it bring me down once again.  And that's when I saw it. Registration was open for the January Eat Smart, Move More, Weigh Less classes.  I said I'm going to sign up this time and that is just what I did.  One day a week, I can do that for myself and my health.  After I signed up I viewed all the Nutrition Decision webinars in the archive.  I was determined and feeling renewed.  When January came I was still feeling good about my decision for a healthier lifestyle, continued to work out and was meeting my 10,000 step goal daily since November 30th.  But I was still not 100% in the game.  The fact that my friends weren't involved had me thinking can I really do this all by myself?  Then I received an email reminder that my class would be starting soon.  I was like oh man I almost forgot I had signed up!  Then I read that I would have to be at a computer and not on a mobile device and thought man I don't know if I can leave work at 5 and make it home to log in by 5:45, especially if traffic is bad.  But I said hey, I'll make sure I'm out the door on time every Monday and do my best.
The support and the knowledge I have gained from this experience has been awesome.  This was truly one of the best decisions I've made in a long time!  When class began I weighed in at 231 and I am currently down 18.1 lbs and still going strong.  I have been setting small weight loss goals and feeling so accomplished when I hit them.  My 1st large goal is to be under 200 lbs and I'm getting closer to reaching it.  I set a SMART goal of being able to run a 10K in an hour and 30 minutes or less and I have signed up for a race on Saturday April 16th.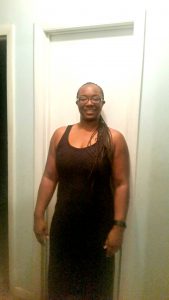 There have been so many amazing lessons that I have learned during this journey.  Label reading was one I thought I was pretty good at turns out not so much (lol).  I bought some extra fiber wheat bread right before our lesson about labels and found out it wasn't whole wheat bread.  It's still in my fridge, but I haven't eaten it since.  I found a bread with the 100% whole grain label.  I had never noticed that little sign before, but I'm making sure I find it on all or as many of my grain products that I can.  I am always making sure to hit my movement minutes for both strength training and aerobic.  On the Weekly Tracker, I love being able to answer as close to 7 days as possible on all the questions each week, except for screen time. That one is still a work in progress!
I currently have perfect attendance in class, fingers crossed that traffic stays clear for these next 3 Mondays!  I had planned to take off a few days to hit the beach while the kids were out on spring break.  Since Monday was our holiday, I decided we would leave Monday and stay until Wednesday.  The week before while in class someone said they'll be out next week because they'll be on vacation.  I said to myself oh man so will I!  So I made sure my daughter packed her laptop so I could try to log on.  When I tried to connect around 3pm, I couldn't get any service with the hotel wifi.  I was so upset, but decided not to stress it.  We went down to the pool.  I got in about 45 minutes of actual swimming in as well as some time just lounging.  Got back to the room and gave the laptop another try and it worked!  I got to have a great lesson on strength training while looking out the balcony at the beautiful ocean view.
While it does get hard at times, I am constantly moving forward on this journey.  It is far from over and I am truly enjoying the process.  My husband, who is a former athlete, does plenty of manual labor, and he doesn't have to worry much about his weight, but HE has even started running again.  Which is nice when I'm not trying to get on the treadmill.  My family has been super supportive and so have my friends, who are not quite there yet, but say that by not giving up I have motivated them to start again on their own journey.  Every week I log my weight on our friends page we made even though no one else has weighed in since December.  I just feel so blessed.  I believe everything happens for a reason, and I am so glad that email came when it did.  I was ready for a change and I've made it.  I know that once I reach my current goal, I'll have a new goal to take over each time.  I am truly thankful for this class and my awesome instructor.