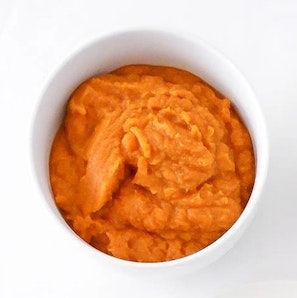 Pumpkin spice everything season is upon us. Maybe you made our delicious Pumpkin Mousse recipe or Perfect Pumpkin Pancakes and have leftovers. If you find yourself with leftover pumpkin puree, don't let it go to waste!
Ideas for Leftover Pumpkin Puree
Breakfast: add to oatmeal, yogurt, or pancakes.
Drinks: make a pumpkin latte at home or add it to a smoothie for a healthy dose of vitamins A and C.
Snacks: add to a batch of muffins or make a pumpkin-based soup.
Pumpkin Blogs
Until you decide how you want to use the leftover puree, you can store it in an airtight container in the fridge for up to a week. If you don't get around to using the remaining puree within a week, freeze it. It can be very helpful to store the puree in pre-portioned amounts. Use a cookie scoop and freeze the puree on a sheet pan in the fridge before placing the frozen puree scoops in a zip-top freezer bag. You can also use an ice cube tray or a muffin tin. Defrost portions as you need them.
Don't miss another great blog: Subscribe Now